This laser serves for cutting and marking and is very compact in size. It provides the same cutting and engraving performance as much larger and more expensive lasers.
This machine has a really small, compact size. We can say with full confidence that it wont take up much space in your production. It is therefore suitable for smaller studios, workshops or graphic studios.
It is possible to cut and mark a wide range of materials, e.g. paper, wood, plywood, textiles, leather, Plexiglas and other plastics as well as Cork. The Laser can mark and engrave even more demanding materials such as glass, ceramics and marble.
The Nova 24 laser plotter is equipped with a CO2 tube with a power of 40-60 W. The working surface has dimensions of 600 × 400 mm, so it is possible to call it a truly "table" model. The laser can work in raster, vector and combined modes.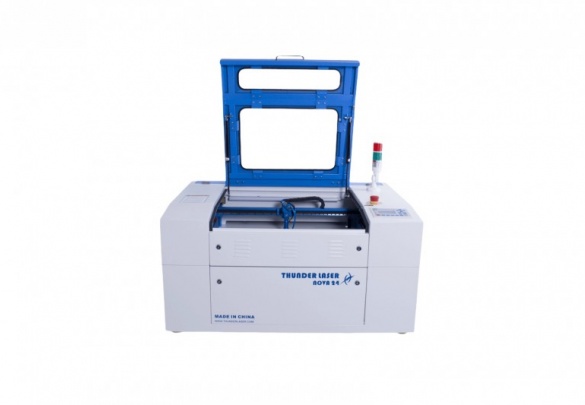 Technical Specifications
Laser System
NOVA 24
NOVA 35
NOVA 51
NOVA 63
Laser Tube Wattage
40-60Watt
80-100Watt
100-130Watt
100-130Watt
Work Area
600x400mm
900x600mm
1300x900mm
1600x1000mm
Table Size
700x530mm
1000x730mm
1400x1030mm
1700x1130mm
Z Axis Height
150mm
230mm
230mm
230mm
Dimensions
1070x810x610mm
1500x1105x1040mm
1900x1405x1040mm
2200x1505x1040mm
Net Weight
130kgs
310kgs
430kgs
470kgs
Laser Type
Sealed Co2 Glass Laser Tube
Cooling
Water Cooled
Motion Control System
High-Speed Hybrid servo motors
Maximum Speed
1000mm/S (39.4 IPS)
Speed and Power Control (engraving depth)
Computer or manually controlled speed and power from 0-100%. Vector color mapping sets speed and power settings using RGB color mapping.
Operating Modes
Optimized raster, vector, and combined mode
Resolution (DPI)
User controlled from 100 to 500DPI (standard laser head), up to 1000 DPI (HR head)
Computer Interface
Ethernet and USB Connection
Compatible Operating Systems
Windows XP/2000/Vista/7/8/10
Buffer Memory
128MB Standard
Display Panel
3.5″ LCD panel showing current file, total working time, laser power, speed etc.
Electrical Requirements
110 to 240 volts, 50 or 60 Hz, single phase
Ventilation System
Integral exhaust fan.There is 1 output port, 5.7″ (145 mm) in diameter in the rear of the case.
Applications
| | | |
| --- | --- | --- |
| Materials | Engrave | Cut |
| Wood | √ | √ |
| Acrylic | √ | √ |
| Delrin | √ | √ |
| Cloth | √ | √ |
| Leather | √ | √ |
| Mat Board | √ | √ |
| Melamine | √ | √ |
| Paper | √ | √ |
| Mylar | √ | √ |
| Pressboard | √ | √ |
| Rubber | √ | √ |
| Wood Veneer | √ | √ |
| Fiberglass | √ | √ |
| Plastic | √ | √ |
| Cork | √ | √ |
| Corian | √ | √ |
| Twill | √ | √ |
| Anodized Aluminum | √ | X |
| Painted Metals | √ | X |
| Tile | √ | X |
| Glass | √ | X |
| Coated Metals | √ | X |
| Ceramics | √ | X |
| Marble | √ | X |